The Good Food Cooking Toolkit is a concise guide to creative cooking without recipes. It can help you create tasty dishes with any ingredients that you have available.
The idea behind cooking with the Good Food Cooking Toolkit is simple: Chop up any vegetables you have around – whether from a food parcel or community fridge, the garden or allotment, a veg box or farmers'market, or simply what's left at the back or your fridge – choose a cooking method, spice it up with a few seasonings from different flavour categories, pick a tasty topping and a side dish to make it a meal and enjoy.
Looking for more inspiration on how to create simple and tasty dishes with the toolkit? Follow the Good Food Oxford Facebook events and YouTube Channel for online cooking demos. And subscribe to our mailing list below to find out about future cooking classes. Here are some more ideas on cooking with the Good Food Cooking Toolkit.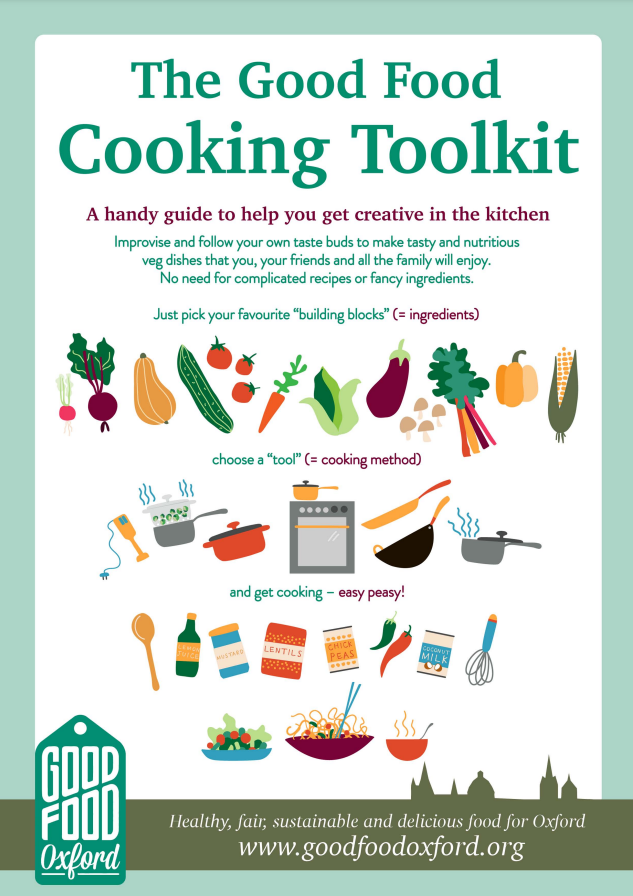 More ideas for cooking with surplus
For Salad Lovers
Getting kids to eat more veg
In partnership with Jamie Oliver
Cooking with pumpkins and squash
Oxfordshire Pumpkin Festival is our annual celebration of these gourdeous seasonal vegetables and our call to action against food waste. Find out more about the Oxfordshire Pumpkin Festival and get our free pumpkin recipes and tips to help you reduce food waste.