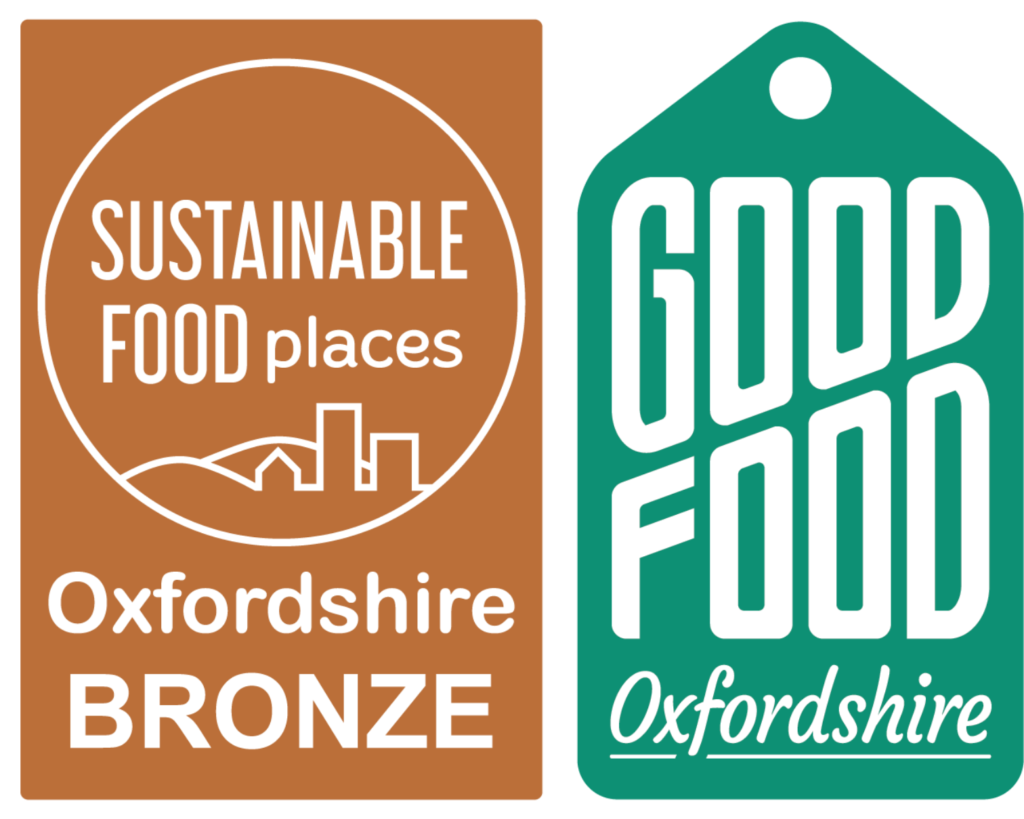 Oxfordshire has become the first two-tier county in the UK to be awarded the prestigious Sustainable Food Places Award in recognition of the work being done by our countywide cross-sector food partnership to build a better food system. And in recognising that our work has increasingly been countywide, GFO is now becoming Good Food Oxfordshire.
The Sustainable Food Places Award is designed to recognise and celebrate the success of places taking a joined-up, holistic approach to food and that are achieving significant positive change on a range of key food issues. The award has recognised the collective efforts of businesses, community and voluntary groups, councils, universities and individuals across Oxfordshire to transform the local food system.
Councillor Mark Lygo, Oxfordshire County Council's Cabinet Member for Public Health, said:
"In Oxfordshire, food makes up nearly half of our ecological footprint – 43 per cent, while we waste nearly 10 million tonnes of food each year. The impact of COVID-19 in Oxfordshire has increased awareness of the food system and the vital role it plays in residents' everyday lives alongside the growing pressures of climate change, biodiversity loss and the need for healthy affordable food. From obesity and diet related ill health, to food poverty and waste, from climate change and biodiversity loss to social isolation, food is not only at the heart of some of our greatest problems but is also a vital part of the solution – and there is still a lot of work to do.
We know that a healthy, and sustainable food system in Oxfordshire is a vital foundation for equality. I am delighted that we, as a county, have been recognised for our collective efforts to improve sustainability, and improve access to good food. In partnership with a number of organisations, we are working with Good Food Oxford to develop a countywide food strategy that will ensure joined up working to ensure that our local food system is good for people, good for the planet and good for communities."
The county council and district councils have co-ordinated across the county to provide food and essential support through grants to food support organisations as well as support to individuals. The countywide approach recognises that food organisations work across localities that cross council boundaries.
Collective efforts bearing fruit
The application for the Sustainable Food Places Bronze Award was submitted by Good Food Oxford and can be viewed on the Sustainable Food Places website. It pays tribute to the fact that building a better food system for all is a real community effort. The supporters and collaborators of this work include the 150 Good Food Oxfordshire network members, over 80 community food services, Oxfordshire County Council, Oxford City Council and the District Councils of Cherwell, South Oxfordshire, Vale of White Horse and West Oxfordshire as well as other networks including Oxfordshire Local Enterprise Partnership and Community Action Groups Oxfordshire.
The Sustainable Food Places Bronze Award is fantastic recognition for the work that is happening across the county to build a fairer and more sustainable local food system. It is a huge achievement to be the first two-tier county to receive this award nationally. It is credit to the collective action of our cross-sector networks of businesses, community groups, local volunteers, public institutions and councils committed to a better food system for everyone in Oxfordshire.
We are delighted with the partnerships that have been developed across all of the districts and city councils and look forward to working with these partners as we continue our Sustainable Food Places journey towards silver and gold.
Councillor Louise Upton, Oxford City Council Cabinet Member for Safer, Healthier Oxford, said:
"It's great news that Oxfordshire has been awarded a Bronze Sustainable Food Places Award. As the city council we are committed to improving sustainability, and we believe tackling food poverty is a key part of that." Oxford City Council unanimously voted earlier this year to support a countywide food strategy, based on the experiences and insights of the pandemic.
To recognise this great work done by so many collaborators and to celebrate Oxfordshire winning the award we are organising this year's GFO annual celebration in the Blenheim Palace Pleasure Gardens. The event will take place on Friday 24th September, during the Oxfordshire Great Big Green Week and Blenheim's Michaelmas Market. A limited number of free tickets can be booked here. Please join the celebrations!
Register for our annual celebration
Becoming Good Food Oxfordshire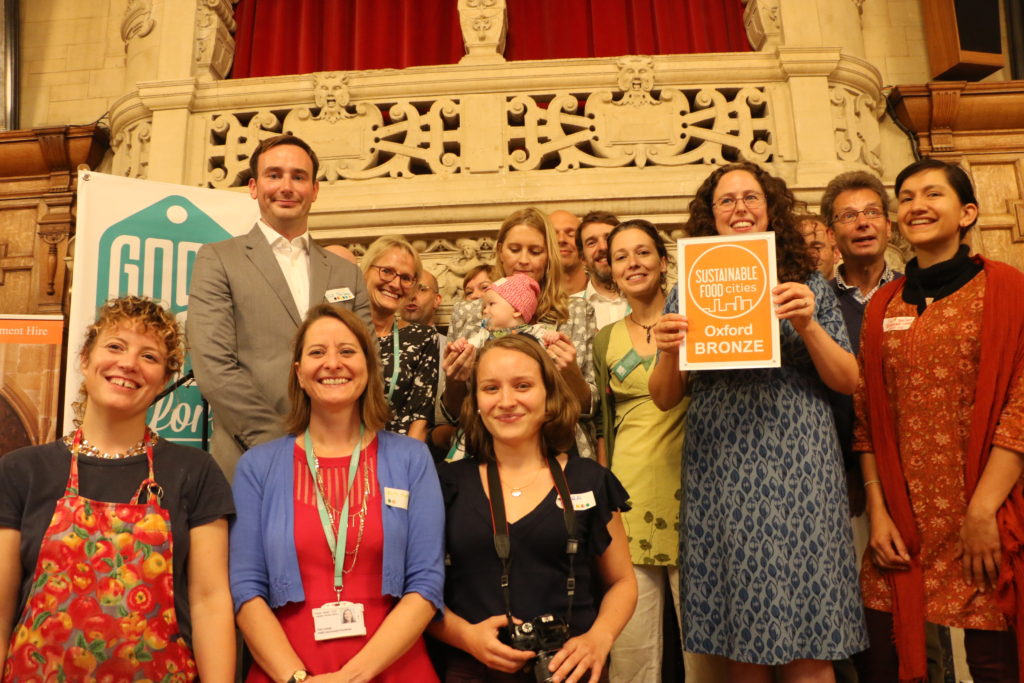 Flashback: GFO team and network members celebrating the Sustainable Food Cities Bronze Award for Oxford in 2018 at Oxford City Hall.
Since receiving the Sustainable Food Cities Bronze Award for Oxford City in 2018, we have a come a long way as an organisation and as a network. Therefore, along with the recognition of Oxfordshire as a Sustainable Food Place, we are now taking the next step to acknowledge that the reach of our work has grown increasingly countywide over the last seven years since the launch of the Oxford Good Food Charter: We are officially becoming Good Food Oxfordshire!
The rebranding will be a gradual transition over the coming months, but you will increasingly see our new logo and the new Oxfordshire Good Food Charter and we will launch a new website in September. We will be in touch with all our network members in the coming weeks to confirm their commitment to the Charter, share the new Charter and update you with more details.