UPDATE JULY 2021: We have opened another round of applications for trainee tutors only from South Oxfordshire and Vale of White Horse, application deadline is the 31st July. The training will take place in Abingdon this autumn.
For the last few months, our team of cooking training Lead Facilitators have been working hard to put together a new cooking tutor training curriculum based on on the Good Food Cooking Framework, our guide for organising and teaching community cookery courses. The aim of the training is to build the capacity of people who are already confident cooks to teach groups. We are looking for enthusiastic cooks from across Oxford and Oxfordshire who are keen to get trained as cooking course tutors, enabling them to run their own community cooking sessions. These sessions will: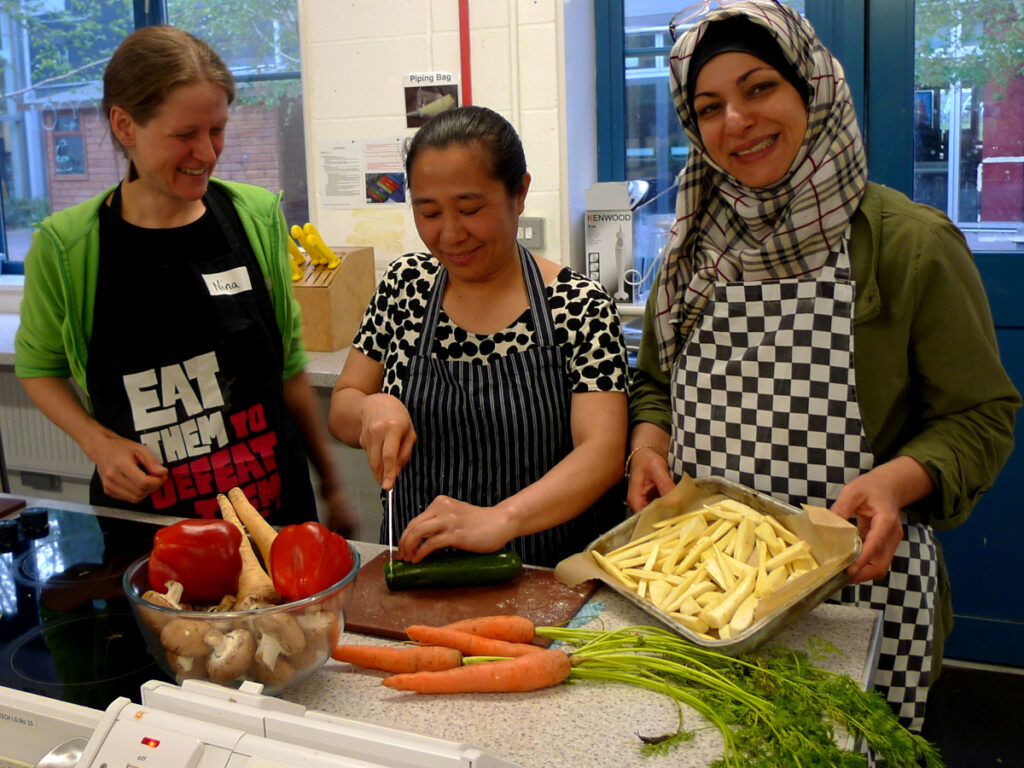 raise awareness of "good food" choices, especially eating more vegetables;
be based on cooking skills rather than recipes;
use surplus food ingredients creatively and raise awareness of food waste;
and enable participants to gain confidence to cook healthy, veg-centric meals from scratch.
"Food education is about more than learning to cook healthy meals. It's an opportunity to create meaningful learning and discussion about food and sustainable living. It's about more than simply raising awareness, it's about building informed and active communities that are empowered to work together to support each other and build something better."
Robin Barrs, Culinary Lead, Climatarian Kitchen and one of the Lead Facilitators for the training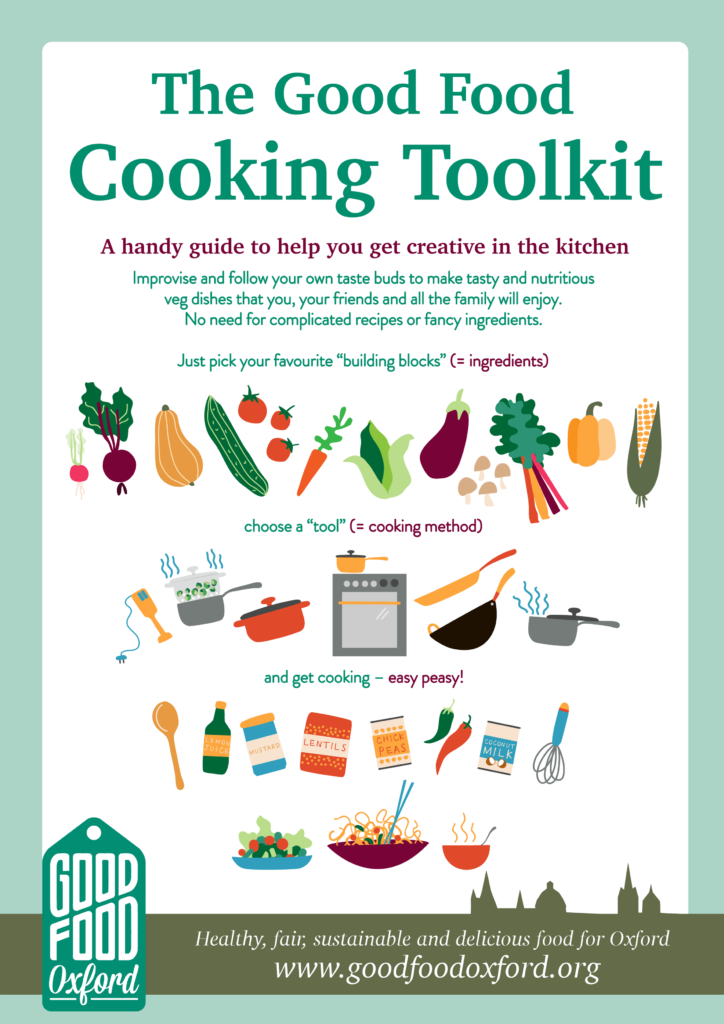 The curriculum is focussed on building cooking skills and changing cooking and eating habits to include a lot more veg. Trainee tutors will learn how to use the Good Food Cooking Toolkit as a teaching aid and as a tool for creative and veg-centric cooking without recipes. The training sessions will be interactive and participant-led, building on the skills and knowledge that the future tutors bring with them and incorporating the richness of their different food cultures. Trainee tutors will get 16 hours of free training with units on foundations of teaching and learning, logistics of organising cooking session and cookery and culinary skills. The training is aimed at people who are confident cooks and is suitable both for those who are new to teaching and those who may already have some experience in teaching cookery. At the end of the training period, tutors will be supported by Good Food Oxford and peer mentors to organise their own community cooking sessions in their localities or online.
We are offering five cohorts with in-person sessions and one online-only format, so applicants can choose the training location nearest to them:
[Cutteslowe Community Centre in North Oxford - full]
[Banbury - full]
[Cherwell Collective in Kidlington - full]
Abingdon - apply by 31st July
[West Oxfordshire - full]
We expect that the sessions will happen in person with COVID-19 safety measures in place and the option of moving sessions online if required by government guidelines at the time. An additional batch of trainee tutors will work with an innovative online cooking club format which is open to participants from anywhere in Oxfordshire and designed specifically for tutors who want to lead their own courses online.
To apply, please read the full role description and then complete the application form linked in the role description. Or get in touch if you have any questions.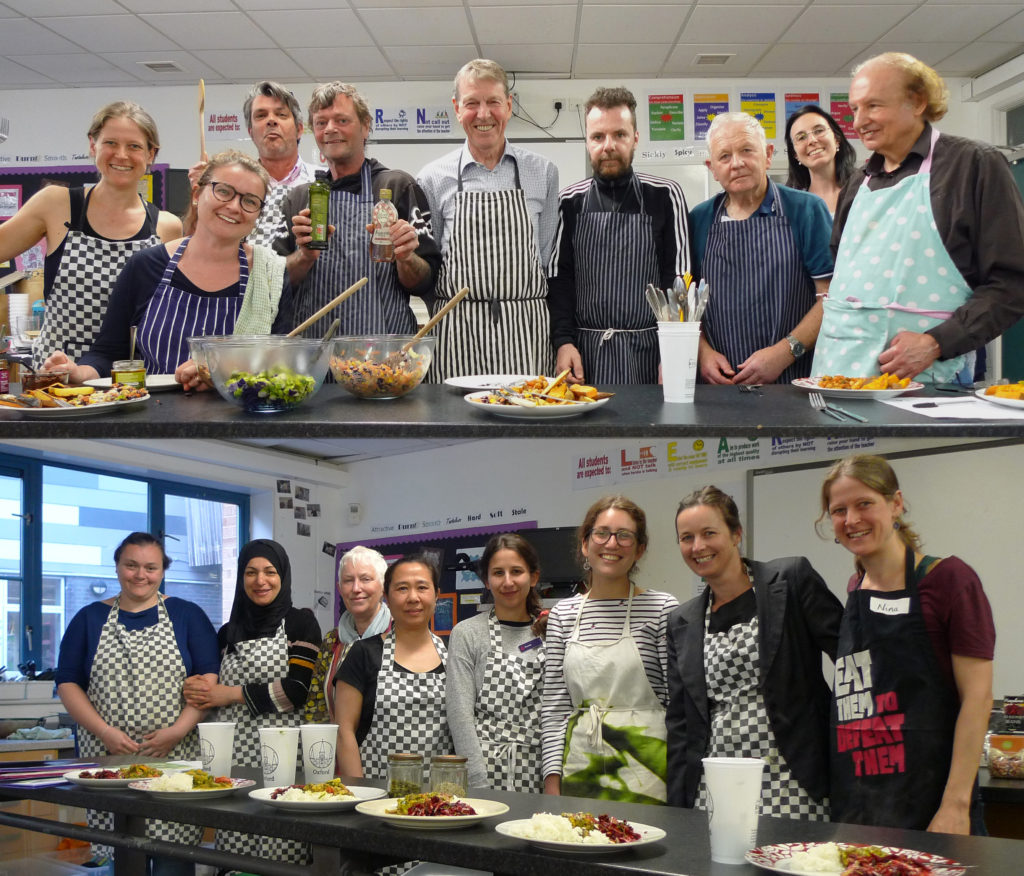 The training programme is supported by Oxfordshire County Council, the national Veg Cities campaign by Sustainable Food Places, Midcounties Co-operative, Oxford Food Surplus Café and Replenish Oxfordshire.